Dive lights
For more than 10 years we produce the highest quality LED dive lights. Each FINNSUB light features the latest lighting technology and a robust design all in a compact package. Our lights are produced in Czech Republic, the heart of Europe with use of the worldwide best components from USA, Germany, Switzerland ...
Anatomy of light
Reliable. Beautiful.
Our LED's
lifetime
is 10 000 hrs
of permanent
usage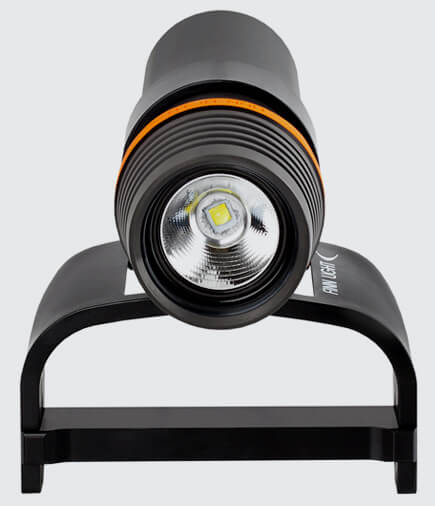 Source
of light
LED stands for "light emitting diode". It is a little semiconductor chip, very durable and delivering many thousands of hours of performance.
LEDs do not generate as much heat as the other sources of light. Therefore they are the most effective. In terms of ratio between light output and energy consumption, they have no competition whatsoever. They do not have any parts that could break or burn. Thus they have far longer lifetime than regular bulbs or discharge tubes.
Light Intensity
Illuminance - Illumination
1 Lux = 1 lm / m2
1 m2 = surface area
Luminoux Fux
Total amount of light
lumen & LUX
The lumen (lm) is standardized unit of a luminous flux = total amount of light emitted by the light source, visible by human eye.
The lux (lx) is standardized unit of illuminance = light intensity, measuring luminous flux per unit area. One lux is equal to one lumen per square meter.
The more effective the optics is, the more luxes are measured for example in a distance of 1 meter from the light source. Lux is another important number to lumen when comparing dive lights. Lumen is a value given by the manufacturer of the emitter and lux is the real value of emitted light..
Source of energy
Lithium-Ion battery (LIB) is a type of rechargeable battery in which lithium ions move from the negative electrode to the positive electrode during discharge and back when charging. With a high energy density, tiny memory-effect and low self-discharge it is an optimal power source for LED dive lights, delivering stable performance for a wide spectrum of diving activities.
Li-Ion batteries used in FINNSUB dive lights provide enough capacity for the long running time keeping the lamp small sized and lightweight. Our engineers install a clever electronics on each accumulator protecting the batteries against discharging and overcharging.
LIBs are not liable to memory effect and so they can be recharged and discharged partially, without shortening their lifetime. Therefore we recommend to charge your dive light as often as possible because the batteries will hold the same capacity for years then.
Borosilicate glass
Due to its chemical and mechanical properties, the borosilicate glass is ideal for usage under hydrostatic pressure, which the diving appliances are exposed to in the depth of -200 msw or even deeper. It is very durable and its excellent translucence supports the LED's performance.
Cable
Highly durable cable has a special insulation on polychloroprene basis. It is UV resistant and suitable for permanent usage in oceanic waters. The cable is flexible for easy movement of the light head.
Endless variations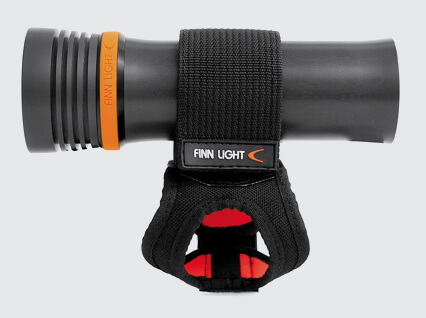 Soft handle
Soft handle made of Cordura offers a nice comfortable neopren on the inside and the side hole for your thumb to free your hands for absolut operation during a dive.
Velcro fastening works under water too and the rubber will hold your dive light firmly in place.
Goodman handle
Exclusive, anatomic, original. That This is our own version of Goodman handle created in our design studio. This new solution is more comfortable and practical than the others. The whole design is very smooth. The screws are imbedded.
It is made of Delrin® as the best material for keeping its mechanical resistance even in extremely low temperatures.
Side Mount System (SMS)
Our own design of 90° connection for sidemount divers leads the cable in optimal direction. Standard cable length 135 cm can be customized to your needs.
Sidemount connection can be installed on any canister version of FINN LIGHT FL Long. Perfectly designed solution keeps the cable in place and protects the accumulator against moisture.
E/O cord
Upon your request we're installing underwater wet connector on any canister version of FINN LIGHT our dive lights. With our special E/O adapter for charging you will not need to unscrew the light head for recharge.
Tip:
if you need extra long running time for explorations just take 2 canisters with E/O cord and change them during a dive.
Award Winner 2014

Our design studio generates a mass of interesting solutions from which we choose just the best ones. They all have the same aim - to create reliable, safe, user-friendly, robust, resistant and timeless products.
In 2014 we received the best product design award for FINN LIGHT 3000 Short and for us it's a proof that we do our job well.
Production
Casing material
The casing of the light heads and Short&Long canisters is are made of aluminum alloy that is furthermore heat treated to achieve higher rigidity.
We chose this alloy for its chemical and physical character, especially for its chemical stability and resistance to corrosion. Therefore FINN LIGHTs our dive lights are resistant to salt water and ensure long lifetime.
Cutting and milling
The casing of FINN LIGHT is cut and milled from noble aluminum alloy. We cut the individual parts with modern, industrial CNC lathes.
The production follows the rules of ISO ISO/TS 16949 oriented to systems of management of quality of suppliers. And the rules of ISO 14001 focused on the environmental management.
Galvanization
Quality of anodizing is checked in a laboratory and according to ISO 9001. The control lab is equipped with hi-tech X-ray, optical and electronic measuring appliances and devices, so that the required quality can be proved and documented.
Eloxal coating
Anodization or eloxal coating is a kind of surface treatment of aluminum parts. In fact it is an oxidation process that creates protective coating on the surface.
Such coating does not oxidate anymore and protects the product against corrosion, abrasion, chemical or electro-chemical damage and climatic influences.
Our lights are finished with so called "hard eloxal coating" that is very resistant to a physical impact. It ensures permanent appearance.